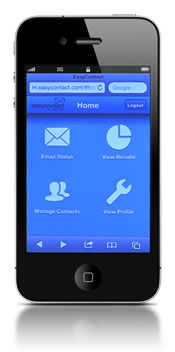 Available for iPhone, Android and recent versions of Blackberry smartphones.
EasyContact Mobile uses the same login information as your online access.  Just visit m.easycontact.com.
Available Mobile Options:
Select "Email Status" to view the current status of your sent emails.
Select "Manage Contacts" link to view contacts and add contact information into existing mail lists.
Select "View Results" to review statistics such as the number of intended recipients, the number of actual recipients, opens and clicks.
Select "View Profile" to review you basic user profile information.